*****Clinics will resume in Spring 2001. Keep checking the Thoro
bladers
page for details.<p>
DIRECTIONS
******TAKE WESTPORT ROAD PAST HURSTBOURNE LANE. DIRECTLY ACROSS FROM THE NEW HOME DEPOT IS A THORNTONS STATION. TURN RIGHT DOWN THAT ROAD. LESS THAN A MILE ON THE RIGHT HAND SIDE YOU'LL SEE THE ENTRANCE TO SAWYER PARK. WE'LL BE IN THE PARKING LOT.

RIVERWALK CONDITIONS



For much of the season the biggest issue in Thoroblader land has been the condition of the Louisville Riverwalk. I'm happy to report that the city finally got it's act together and started cleaning the path on a regular basis. We all feel very lucky to have such a wonderful facility to skate on, but it's all a waste of time if the city doesn't maintain it. Thanks to the skaters who pestered city officials with phone calls and e-mails. And an extra-special thanks to John Schnieder, who led the charge. If you haven't already, check out John's website on the Louisville Riverwalk.



PHASE 2


After a few days of typical Louisville politicking, the Board of Alderman passed Mayor Dave Armstrong's proposal for additional waterfront development funding. 1.8 million dollars was approved for the expansion. In a few years, the Riverwalk will be expanded east of its current location. A beautiful spiraling concrete walkway will be built around the Big Four Bridge, linking the park to the Indiana side. More skating for everyone!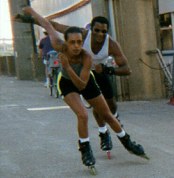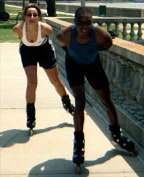 " >